Sometimes, the best gardens can be found indoors …
Atoche Railway Station, Madrid, Spain
How's this for an Indoor Park?
Beneath tall office buildings in Tokyo lies a series of  research gardens.  Staffed by local youth, the gardens are dedicated to researching indoor plant growth as well as producing healthy edibles.  Imagine, picking up your daily veggies from the basement of your workplace!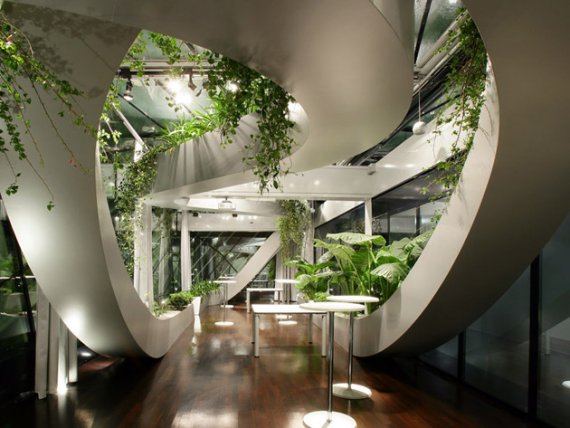 Babylon revisited?  No, it's just an indoor garden designed by Sadar Vuga Architects for the Chamber of Commerce and Industry in Ljubljana, Slovenia.
The Atriums and Gardens of Opryland include nine acres of lush, indoor gardens.  These gardens are divided into three distinct areas -- the Cascades, the Delta, and the Garden Conservatory. 
The Cascades feature a 44-foot tall waterfall.
While the Delta houses a quarter-mile river upon which one can take a ride on a river boat.
Vertical gardens also lend themselves to indoor applications.  They are just right for the office!
For those who love plant collections, there are many indoor gardens contained in botanical gardens throughout the U.S.  Here's a beautiful indoor garden at the Buffalo and Erie County Botanical Gardens.  The garden buildings were designed by Frederick Law Olmstead in 1868 and 1876.
As for me, I love to find gardens indoors.  Although my green thumb seems to only apply to the out of doors.